White Oak Pool and Pavilion
Splash into summer with a membership at White Oak Pool and Pavilion!
Offering a lap lane for serious swimmers, the pool is a great way to stay fit during hot summer months. Or, relax in the shade poolside and enjoy a good book set to the sounds of summer fun.
Lifeguards on duty during regular pool hours. You may bring your own snacks and non-alcoholic beverages, but please—no glass containers or pets. Patrons must check-in and present their pool membership badge to gain entry.*
The White Oak Pool and Pavilion opens on Memorial Day weekend, Friday, May 26, starting at 4 p.m. In addition to regular business hours, pool memberships can be purchased online or in the NNMD office from 9 a.m. to 5 p.m. on weekdays.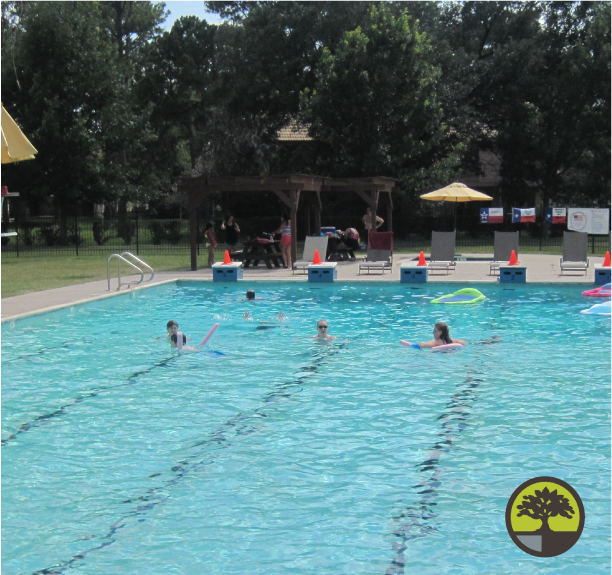 Host your graduation pool party here!
Amenities
2 showers with hot water in each dressing/bathroom
2 pavilions with 10′ picnic tables beneath shaded pergolas (available to rent for pool parties!)
25′ outdoor pool with lap lane and detached toddler pool
Patio furniture—tables, chairs and chaise lounges
Palm trees and umbrellas for shade
Regular pool hours of operation:
Tuesday through Sunday, 1:00 pm – 8:00 pm
Open Holidays – regular hours
Monday, May 29 (Memorial Day)
Monday, September 4 (Labor Day)
The last day of the season will be September 4, and the pool will be closed from September 5, 2017, until the 2018 season.
Pool Membership – How do I join?
2017 Pool Membership Registration (Print the Pool Membership Application PDF)
2017 Pool Membership and Use Regulations
Call the office at 713-895-8021
Blue Marlins Swim Team
The Blue Marlins swim team will be back at the White Oak Pool in 2017!
The team will host swim meets at White Oak Pool.
For more information about the Blue Marlins, click here
*Daily swim passes are available for individual purchase, and do not include in and out privileges.
No charge for children under 2 years of age.